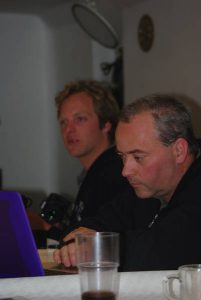 One of the most enthousiastic divers during Expeditie Noordzee 2014, was Gareth Lewis from the U.K. He came to view the wrecks at the British side of the Dogger Bank but dived all the Dutch wrecks as well. Gareth is a biologist by profession and an archeologist in his free time, but surprised us all when he provided us with a nice poem on the last evening of the expedition. Gareth, we hope to see you and hear your lyricks more often the coming years.
Expeditie 2014

Ambition expeditie 2014,

To dive the North Sea totally clean.

All aboard the Commandant Fourcault

The fish net cutting crew ready to begin their assault!

First dive, first in, its super hero Ben '10' Stiefelhagen

The cool tape laying team with quick draw Wouter Mennen

Who is next over the top on this Friesian front line?

Photographers, lights and cameras that choice would be mine.

Klaudie, Udo, Cor, Jack and Jackie – O

Because they like the best viz … but they do go a bit slow.

So archaeologists or marine biologists who is next in the scope?

The smaller creature lovers that's me, Oscar, Wouter, Lodewijk, Niels and Joop

Then come the archaeologists who need lots of room

A lot to explore, tape measures and scooters Peter Van Ling and Rob Verboom.

The fish net brigade next, and yes 'Rocky Horrors' of sorts

Each wreck guaranteed to be covered in nets from all fishing ports

Cut the nets; fill the bags fuller than full

Eddy Sea Shepherd, Michael, Willem and Cyriel

Derko Mulder too if it was not for his ears

Took over Dive leader duties no problems no fears

As Fred Groen sings the 'Clean the seas' shanty song

And the mischievous harmonies of Chris and Fleur bob blog blogging along

Harold Batteram and Erik Bronsweld

Navigating, checking where the next super wreck will be felt

Oestergronden, Doggersbank, nice depth and slack water please

You both always come up with the much needed goodies

But as Rob proclaimed 'Souvenir Hunting' was not the name of this trip

Any unknown wreck finds need filing and putting into the archaeologist's salty dip

So as well as the wrecks we had the drop cam of Wouter Langkeek

Giving us great Nephrops cheer as out of its secret burrow it did peek

Night after moonlit night the cam went down

On mud, sand and gravel the Dab's were in town

Let's not forget our specialists who, like the birds, flew away

Arjan the expert on sea squirts scientific

Myrthe who listened in from National Geographic

Wim worrying about his flight in case he would have to swim that day too

But no worries as 007 Pim Rhodes came to the rescue

Ship's Captain, Helicopter pilot cool dude extraordinaire

Who is this man, philanthropic and so debonair?

But hydraulic issues they come to us all

Just like a Porsche battery stuck on stall

But hey, with new pipes on board

Dives were go, go, go again, praise the Lord!

Frank can fix it, whilst Gabi masters the loadline of the RIB

Erin knows your number; there will be no damp camera squib

Gael and Stefan top crew always on hand

Tom Chef is the best! Amazing soup and Dutch food that is so incredibly grand

Then there is Sous(su), but I'll call him Kris,

Because deep down masseurs … they like it like this.

Rineke arrived in style with lots of answers to get

From all of the divers like Joop in his red helmet

The other cuddlier Joep, friendly to all, of course was the dog Doberman

And less friendly side kick cat, the rare bird eating, Satan

Sabellaria spinulosa, Sepiola atlantica too

Latin names are second nature for this skillful crew.

Now that I have learned the true meaning of 'lazing'

Not slouching in chairs, but serious lectures and debating!

Christa's talk on plankton nets and microplastic

Makes the mission seem possible and us all feel fantastic!

This expedition makes me feel proud, that's the way it is

Whether its Botvis, Botervis, Bruinvis or just great North Sea viz

So as we all find our space at 6 metres on the shotline of life

One person needs the thanks of my children and wife

Not just because he wears the ultimate T-shirt

But dishes them out too and keeps them from dirt

This man is Robertino the reason I stand breathing tonight

Thanks for the nitrox, helium and allowing us to be on the dive site

So as the expedition comes to a glorious end

The ships full of the waiting media tomorrow descend

Stay safe, healthy, happy and insane

And perhaps we can all do it again!!!